Emergencies are a business's worst nightmare, especially when an emergency is completely out of their control and drastically affects their continuity of business. An unexpected event can tear into cash reserves and even present a physical danger to property and the safety of personnel.
On Monday, February 22nd at 7:20 AM, an IT and Telephony emergency completely out of our client's control occurred in Lynnwood, WA.
At Advocate One, we treat our SA (Service Agreement) clients like family. Since Experience Momentum is one of our SA clients, we dropped everything after the power surge as we knew our client was in dire need of support.
Once we arrived at Experience Momentum's office, we assessed the damage and snapped the few pictures shown below: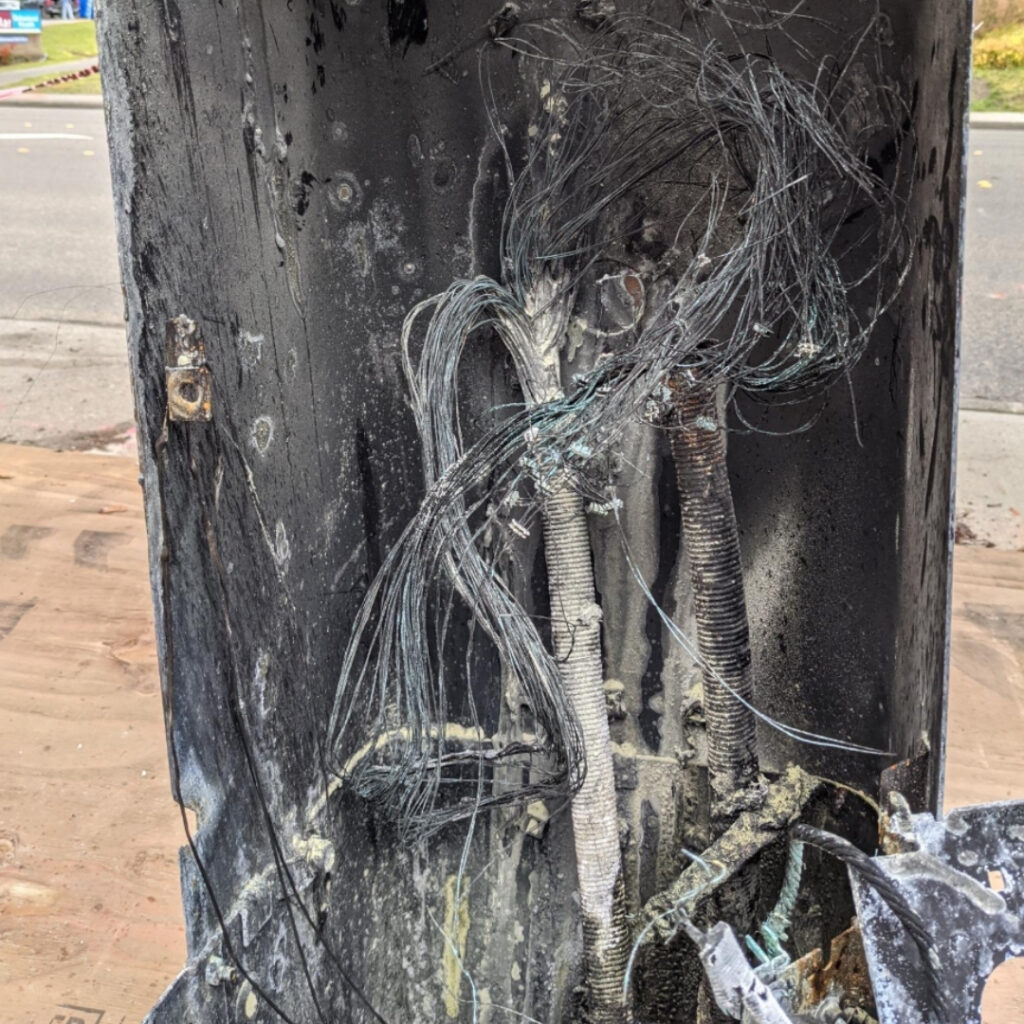 This specific event was something we had never seen before and hope we never see again. A violent power surge had traveled from the commercial power grid, into the customer's building, destroying electronics, fusing cabling together, and burning insulation off of the cabling in the ceiling and walls.
Experience Momentum's phones and Internet were down, severely inconveniencing both staff and clients and obviously impacting Experience Momentum's bottom line every minute their critical lines of communications were down.

Whether your business is an SA client or not, we understand the importance of continuity of business and the costliness of unexpected interruptions.

How we support Continuity of Business in cases of emergency:
Communicate – Because we monitor Servers, Workstations, and Laptops, we're often the first to know that an emergency has occurred. Step one is Communication. We inform you about what we know and how we can help.
Assess and Record – As we gather needed facts, we also document the issue in writing, in pictures, in videos. This comes in handy when filing an insurance claim.
Recover – As with battlefield medicine, some emergencies require that we triage, bringing key players back on-line first, using off-site or temporary workplaces, possibly replacement computers or phones, etc. However complicated the issue, our goal is to get the business back up and running swiftly.
Reassess – Once fully functional, we talk with our clients about what happened and how to prevent it from happening/deal with it happening in the future.
After we assessed the damage, we got straight to work! By the afternoon on the same day, we were able to get Experience Momentum back up and running! We credit this success to our expertise in IT and Telephony and solid relationships with our clients and vendors, not to mention some good old-fashioned teamwork.
Emergencies happen but they don't need to be a nightmare. Need an IT or Telephony provider you can trust to help you through an emergency? Give us a call today!
Your Trusted Technology Partner
Advocate One is a results-driven technology provider that focuses on delivering voice and data solutions for small businesses. Our mission is to provide an unmatched customer experience backed by top-notch IT support, enabling clients to better focus on their core strengths and services.
Find out how Advocate One can make your business more productive, your systems more secure, and your tech-related stress minimal. Feel free to get in touch with us; we are here for you!